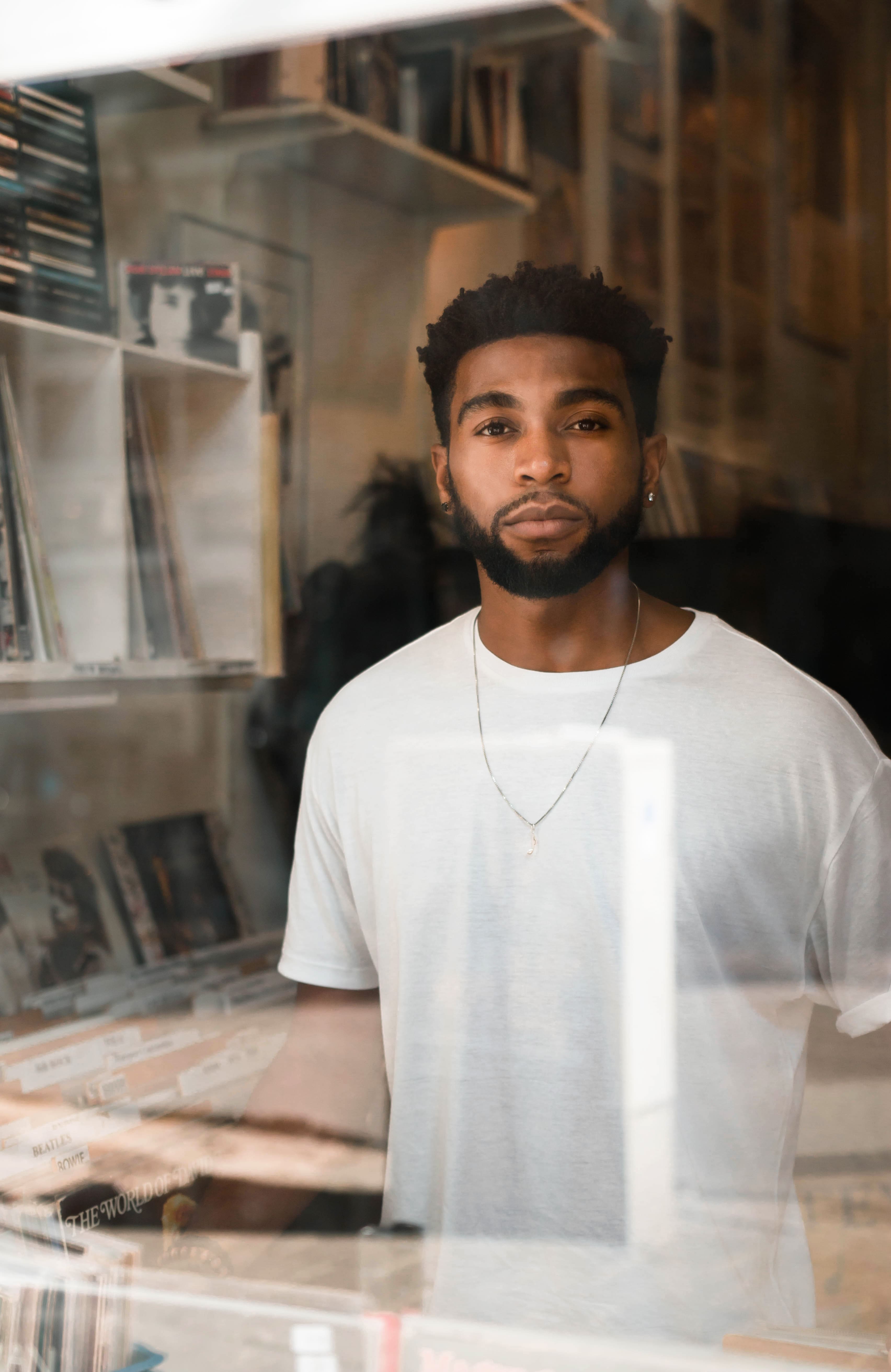 Dasilvian Bruce was born and raised in the west side area of Amsterdam and is the youngest of 4 children. Music has always been a passion where Dasilvian grew up. There wouldn't have been a day gone by without hearing songs from the oldest soul and funk artists to the newest R&B and hip hop artists.
It all began at the age of thirteen during an music class at high school. The assignment was to sing a song by choice. To Dasilvian this was very difficult. Being brought up in a household where you would hear soul/blues, r&b/hip hop, pop and jazz/funk there was a lot to choose from. Eventually he went with 'All out of love' by r&b boyband Jagged Edge (covered from Air Supply). After he sang this song he got a lot of positive reactions. Dasilvian got advice to do more with his singing and thats where his musical journey began.
Dasilvian tried his luck at several national talent shows. After gaining a lot of experience he continued further with his musical quest. Even though Dasilvian was busy with school and work obligations he never gave up on his love for music. At the age of eighteen Dasilvian began to write his own songs without knowledge of notes and chords. After writing several numbers he decided to work on an entire album. Dasilvian felt the need to make beautiful music and bringing it out one day.
Now that moment has come…
Dasilvian Bruce's music style is a mix of R&B, soul and funk. In his music these styles will often come forth with sometimes a surprising element where these styles come together.
Dasilvian's goal is to create music that everybody can relate to. Music that is timeless and influences your every mood. With his real, passionate, high live quality and energised performances Dasilvian aims to connect, share and dance with you until you meet at his next show.
Best of the Year

five, six, seven o' clock
It's a new day a new start, wake up
pack a bag make breakfast cause
They don't want to miss the school bus , school bus.
Suit up S on your chest superman superwomen ready for the test.
Ready to rescue the world you know best you the one that got your own back!
I know, the times that it feels so hard.
Never give up, never give up, never give.
You can't cry cause you have to stay tough
Giving up, never giving up, never giving up.
Well it's time to let yourself go.
one day of the year to let you all know.
We appreciate the effort you show
best of the year is all yours.

Chorus(2x)
I hope this song
get's you true the times you don't feel okay
I hope this song
Makes you feel you're worth it every day
I hope you know
That it's not your fault cause it's not your fault
You're beautiful so beautiful
But they don't know no they don't know

I hope this song
get's you true the times you don't feel okay
I hope this song
Makes you feel you're worth it every day
I hope you know
That it's not your fault cause it's not your fault
You're beautiful so beautiful
But they don't know no they don't know no they don't know.

Put your hands in the air all the single fathers put your hands in the air.
Make a heart with your hands all the single mothers make a heart with your hands.
And to the kids out there point with you finger to the one that cares.
Do you know what it says
We love you you're amazing .

Verse 2

Another bill and another bill stacking up on the table
Im ready to pay but
I can't believe it it but it still real
Just got my paycheck but there is nothing else left
You know I want to take you on a date
Movies popcorn today is your day
But Instead we watch a bootleg movie
And have some left over from yesterday

I hate, to make you go trough this not your business not even on your wish list
You say, don't worry dad don't be scared cause I now everything is gonna be okay
But wait, to make your day a little better I drew you a picture of me and you together! Dancing and playing cause nothing else matters as long as we stay in this picture for ever

(8x)
Lets' stay let's stay in this
Lets' stay let stay in this picture forever

Lets stay here forever

Unity

It's been a long year
I've been in and out the studio working hard but it paid of my dear
So let's spend everything we got
I wanna get you out of here 
cause you've been busting your ass too hard
Babe get on my back and lets fly off as far as we can and let me take you to the motherland

I don't care how long it will take to get there
Long as I am with you I really don't care
And if the world starts to turn on us we gone fight back cause you got me good and I got you hard

Underestimated power clashed
Notorious effects impress
Intellectual minds way to farfetched
Treasure to gen next
You're the key to the future babe

(CHORUS)
There's no place like this
Al those smiling kids
Don't know what it is but
There's no map to this
But we found it we found it don't hide it let's tell the world


There's no place like this
Life is not easy but
Poverty is history
I'll show you cause
We found it we found it's made out of you and me.

UNITY
Thats the way we got to live for you and me
UNITY
Listen to the kids color ain't a thing
AINT A THING
Cause if we keep dividing we will never win
NEVER WIN
So open up your heart and let te world in
LET IT IN

Let go let go of your breaks and lets show a better world is the aim
So spread love and help the one in need cause energy you give is energy you will receive

I don't care how long it will take to get there
Long as I am with you I really don't care
And if the world starts to turn on us we gone fight back cause you got me good and I got you hard

Underestimated power clashed
Notorious effects impress
Intellectual minds way to farfetched
Treasure to gen next
You're the key to the future babe


You and I T Y
UNITY
You and I till we die
So we better have fun till our lights go out
Heeeeeeeyyy

You and I T Y
UNITY
You and I till we die
You the key to the future you might as well use it


There's no place like this
Al those smiling kids
Don't know what it is but
There's no map to this
But we found it we found it don't hide it let's tell the world

But we found it we found it don't hide it let's tell the world

But we found it we found it don't hide it let's tell the world

There's no place like this
Life is not easy but
Poverty is history
I'll show you cause
We found it we found it's made out of you and me

UNITY
We found it we found it's made out of you and me
UNITY
We found it we found it's made out of you and me
UNITY

Who Is Breaking You Down?

Strange things promises spreading around the surface of the earth.
Waiting for fulfillment rather today than tomorrow.
I can play the games they make without winning
I can play the games they make and crash the high score

Try to stay alive and do the things you want to do even if there is someone breathing down your neck to rune you.
I can assure you It's you you you you
I can assure you It's you you you you who's breaking you down

Crying crying deep in your heart cause you're trying trying but you don't know where to start.
Take the chance to finally find the real you
Smash the mirror so you can see the old you breaking in pieces

Try to stay alive and do the things you want to do even if there is someone breathing down your neck to rune you.
I can assure you It's you you you you
I can assure you It's you you you you who's breaking you down

No I won't stop no I wont break no I won't change my whole life
Cause I don't regret the choices I've made cause I'm walking on my own path
You can't judge me you're not jesus you won't be a better man
So I will stay unfortunately until it's my time

Try to stay alive and do the things you want to do even if there is someone breathing down your neck to rune you.
I can assure you It's you you you you
I can assure you It's you you you you who's breaking you down

There to Love

It's ya boy D
(Hey, hey, hey, hey, hey hey)
I's amazing how we made it so far It's amazing how we made it so far
(Hey, hey, hey, hey, hey hey, hey)

(Verse 1)
I've been thinking about my life I'm scared to accept the fact that time is passing me by
(We all know that a)
Dream has a price but I'm willing to make sacrifices willing to deserve all of my time with you
I hope one day to see you smile when you're standing in the crown and I'm taking int all out
(Just for you)
You've been so supportive by standing next to me and from my heart there's som much love to give you back
(Let's gooohoo)
I hope this song will take you places that you've never dreamed before dreamed before
(Let's gooohoo)
And don't give up whenever struggle gets to hard on you you never feel alone
(Let's gooohoo)
If you're happy to tell you to be proud of who you are you're a star
(Let's gooohoo)
Let's go cause you will never know if there is still tomorrow

(Chorus)
I don't care as long as you swear to la la la love la la, la la la love
I don't care as long as there's la la la love la la love, la la la love
I don't care as long as you swear to la la la love la la, la la la love
I don't care as long as there's la la la love la la love, la la la love

(Verse 2)
I won't walk this earth if I gotta do it
Solo solo solo
I won't walk this earth if I gotta do it
Solo solo lo lo
I won't write good songs if I ain't got you around me
Solo solo solo
I won't write good songs if I ain't got you
Around me a around me

(Chorus 4x)

Guardian Angel

I can feel it fading my energy is draining away from me
Baby I can't help it I've been fighting this illness for a long long time we all know I was dying
Minutes away secondes away from collapsing flashing images of my life passing me by and
I'm grabbing your hand telling you don't cry It's until then and not a goodbye

I'm a guardian angel for you(for you, for you, for you, for you)
I'm a guardian angel for you(for you, for you, for you, for you)
I'm a guardian angel for you(for you, for you, for you, for you)
I'm a guardian angel for you(for you, for you, for you, for you)

What if imma rise up out of my grave like jesus did
What if Imma rise up and end up in hell instead of heaven
Will I be the only one will there be heroes or criminals
What if it's all darkness
I don't want to go
I don't want to know

I'm a guardian angel for you(for you, for you, for you, for you)
I'm a guardian angel for you(for you, for you, for you, for you)
I'm a guardian angel for you(for you, for you, for you, for you)
I'm a guardian angel for you(for you, for you, for you, for you)

(I'm still beside you to keep you safe
whenever you fell all alone just call my name
and If you are about to cry I will dry your tears
Take the pain take the pain away so you can smile again)

We all got to go one day. Wether it's from sickness or age I know this is a day we all fear. But when enough is enough and your body is empty your soul takes the responsibility to save you from the hurt and pain and you will rise up and spread you wings just so you can blossom like a beautiful angel
DOWNLOAD NOW
PRESS KIT (dutch version)
PHOTOS | BIO | LIVE IMPRESSION